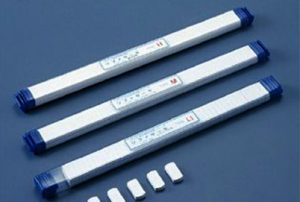 The development of REFERTHERMO started in 1991 by the Juridical Foundation of Fine Ceramic Center (JFCC) with the purpose of standardizing the test/evaluation method of fine ceramics. 5 models have been developed so far for different temperature zones.

we have been shipping Referthermo to as in charge of overseas sales division of icera Co., Ltd. ,which is main distributer of   Referthermo.

We have managed lot number of Referthermo, which we sell

We can privide information materials(English User Manual etc)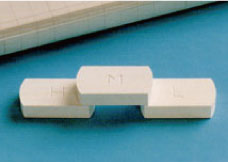 Referthermo is a reliable thermal history sensor that enables the user to simpley and precisely control the firning process.
Firing of ceramics is typically performed by monitoring theurnace's temperrature profile.However management of the entire thermal history of a ceramic is necessary if firing conditions are to be accurately controlled,since these can vary with furnace type and atmosphere.
Referthermo is a series of practical reference materials whose composition,grain size distribution and green body density are precisely controlled.Optimum firing conditions can be quickly and simply determined by co-firing a Referthermo tablet with the ceramic products and measuring the tablet's length after shrinkage.

Steady-state firing conditions are usually maitained by measuring a furnace's temperature with a thermocouple or optical pyrometer, but these thermal sensors cannot take into account important factors apart from temperature. Furthermore, it is well known that calibrating such measuring instruments is itself a difficult task.
Seger cones and Orton cones are similar thermal history sensors to Referthermo. These cones are pyramidal in shape, but since the firing conditions are indicated by the degree of sagging of the tops of the cones, a precise quantitative evaluation of the temperature is not possible.
Referthermo,however,uses shrinkage phenomena to quantitatively determine the amount of "heat-work", so it is much sensitive to abnomal conditions.This sensitivity can be improved further by using a management chart or similar method.
Used regularly as a temperature monitoring system,Referthermo can be considered to be a thermal history sensor that promptly reveals abnormalities in the firing cycle.


Step1.set the referthermo at the appropriate place
Step2.firing